It's probably not a great sign that I don't really remember why Lisa Grunwald's Time After Time caught my eye. Maybe it was the cover, or the time-traveling historical romance. I didn't have very high expectations for this book, but, unfortunately, I still ended up disappointing.
(All reviews are spoiler-free unless otherwise noted.)
Synopsis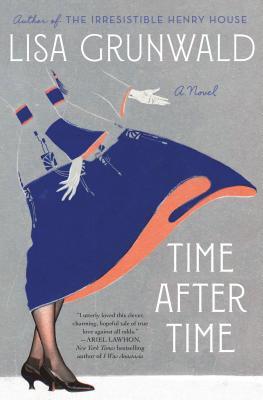 (From Goodreads) On a clear December morning in 1937, at the famous gold clock in Grand Central Terminal, Joe Reynolds, a hardworking railroad man from Queens, meets a vibrant young woman who seems mysteriously out of place. Nora Lansing is a Manhattan socialite whose flapper clothing, pearl earrings, and talk of the Roaring Twenties don't seem to match the bleak mood of Depression-era New York. Captivated by Nora from her first electric touch, Joe despairs when he tries to walk her home and she disappears. Finding her again—and again—will become the focus of his love and his life.
Nora, an aspiring artist and fiercely independent, is shocked to find she's somehow been trapped, her presence in the terminal governed by rules she cannot fathom. It isn't until she meets Joe that she begins to understand the effect that time is having on her, and the possible connections to the workings of Grand Central and the solar phenomenon known as Manhattanhenge, when the sun rises or sets between the city's skyscrapers, aligned perfectly with the streets below.
As thousands of visitors pass under the famous celestial blue ceiling each day, Joe and Nora create a life unlike any they could have imagined. With infinite love in a finite space, they take full advantage of the "Terminal City" within a city, dining at the Oyster Bar, visiting the Whispering Gallery, and making a home at the Biltmore Hotel. But when the construction of another landmark threatens their future, Nora and Joe are forced to test the limits of freedom and love.
Review
Time After Time starts with an interesting premise. Unfortunately, that was pretty much it. After reading a few rave reviews, I was hoping for something that I could fall into. I mean, what's better than historical romance with a little sci-fi/fantasy thrown in? I wanted it to be a great book. But it just wasn't.
I had a few issues with this book, not least of which is the pacing. This book is just so slow. I was bored by maybe chapter two, which is a problem. I struggled to get through this book, and just wasn't excited to pick it back up every time I put it down. It wasn't exciting enough for me to particularly want to keep reading. Time After Time is a little over four-hundred pages, and I felt it was unnecessary. Had it been edited down, this might have been good. I actually think it might have made a great short story or novella without some of the side characters or subplots. I'm kind of over novels being long just for the sake of it, and have come to love shorter novels that pack a punch (like Binti by Nnedi Okorafor). Time After Time missed the mark.
I didn't like the characters enough to care what happened next. I read a lot (surprise!) and I just really like enjoy reading about interesting and dimensional characters, which these were not. I struggled to be at least a little invested enough in them to keep reading. There is a time and place for unlikeable characters – they can be really fun to read – but this wasn't it. I actually disliked Joe in particular (he does some stuff that I didn't like). I personally didn't think Joe and Nora were enough to carry the story. I just wanted more from them.
Sadly, I also didn't particularly care for the writing. It wasn't bad. But it wasn't great, either. I think this book could have benefited from a few more rounds of editing. The dialogue in particular just felt very inexperienced. A few times, it made me cringe a little because it reminded me of how I write when I just want to get a scene out and plan on going back and fixing it later. I think a lot of writing is editing, and Time After Time honestly felt too close to a first draft for me. I just didn't love it.
Rating
★★☆☆☆ – Time After Time is not a bad book, per se. I can definitely see why some people have loved it. Personally, I didn't enjoy it, but I also didn't hate it. If it really interests you, give it a shot. But there are plenty of better historical novels out there you can read instead.
Time After Time will be available in bookstores June 11. If you're interested, you can order a copy on Amazon now. 
To get the audiobook for free, use this link to sign up for a free trial of Audible and choose Time After Time as one of your two free books.
This book was provided to me by NetGalley and the publisher. All opinions are my own.
*This post contains affiliate links, which means I may get a small commission for purchases made through this post.*