There are very few things I don't read. But there are a few genres I read very, very rarely. One of those is romance (it's just not something I gravitate towards). I can count on one hand the number of books I've read that are just romance books (not other genres with a romantic subplot), and, of those, I can only think of two I really loved. One of those books: Casey McQuiston's debut novel, Red, White & Royal Blue.
(All reviews are spoiler-free unless otherwise noted.)
Synopsis
(From Goodreads) A big-hearted romantic comedy in which First Son Alex falls in love with Prince Henry of Wales after an incident of international proportions forces them to pretend to be best friends…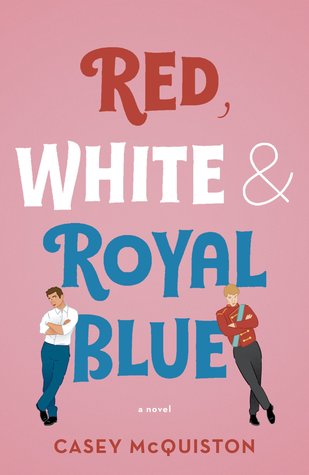 First Son Alex Claremont-Diaz is the closest thing to a prince this side of the Atlantic. With his intrepid sister and the Veep's genius granddaughter, they're the White House Trio, a beautiful millennial marketing strategy for his mother, President Ellen Claremont. International socialite duties do have downsides—namely, when photos of a confrontation with his longtime nemesis Prince Henry at a royal wedding leak to the tabloids and threaten American/British relations.
The plan for damage control: staging a fake friendship between the First Son and the Prince. Alex is busy enough handling his mother's bloodthirsty opponents and his own political ambitions without an uptight royal slowing him down. But beneath Henry's Prince Charming veneer, there's a soft-hearted eccentric with a dry sense of humor and more than one ghost haunting him.
As President Claremont kicks off her reelection bid, Alex finds himself hurtling into a secret relationship with Henry that could derail the campaign and upend two nations. And Henry throws everything into question for Alex, an impulsive, charming guy who thought he knew everything: What is worth the sacrifice? How do you do all the good you can do? And, most importantly, how will history remember you?
Review
Tell me you weren't sucked in by the first sentence of the synopsis. Because it definitely got me. I'll admit to being a little skeptical. Like I said, romance (especially contemporary) isn't my favorite genre, and it's definitely not something I read a lot of. But I just couldn't resist a story about the son of the (female!) US President falling in love with the Prince of Wales. I mean, come on. This is all I want in a rom com. (And it's just been optioned for a movie! I need it now please.)
Red, White & Royal Blue is exactly what the synopsis says it is. And it's SO GOOD. Seriously, I haven't had this much fun reading a book in a while (which is kind of on me for not reading more romantic comedies). I couldn't put it down. Which is saying a lot because I generally don't read romance or new adult (is that still a thing?), and I usually struggle to identify with millennial characters (even though I technically am one). But these characters just felt real, and I really liked that. Also, I'm a huge fan of nerdy female characters, and loved seeing that in Nora.
But the heart of this book (literally) is the relationship between Alex and Henry. It just made me so damn happy. We're talking Pride and Prejudice levels of warm and fuzzy. Granted Red, White & Royal Blue goes a little beyond just warm and fuzzy (Jane Austen didn't do sex scenes). Reading this at work was probably not the best idea, but it was worth it. Because I really truly loved it. This made me want to read more romance, and definitely more of Casey McQuiston's work. I am really impressed that this was her debut novel, because it was so good, and a little disappointed that I don't have five more of her books to read. I guess I'll have to settle fo rereading this repeatedly. Which we all know I rarely do.
Rating
★★★★★ – I can't tell you how much I loved Red, White & Royal Blue. Which is something I never thought I'd say about a romance novel with millennial main characters, but I've never been so happy to be proven wrong. If you're looking for a new book to read this summer, I highly recommend Red, White & Royal Blue. It'll make the perfect beach read. Just saying.
Red, White & Royal Blue will be available in bookstores May 14. You can order a copy on Amazon now.
To get the audiobook for free, use this link to sign up for a free trial of Audible and choose Red, White & Royal Blue as one of your two free books.
This book was provided to me by NetGalley and the publisher. All opinions are my own.
*This post contains affiliate links, which means I may get a small commission for purchases made through this post.*