You probably already know that romance isn't a genre I read very much of. Since starting this blog, I can count on one hand the number of romance novels I actually enjoyed. And, at the top of that list is Sally Thorne's The Hating Game. Obviously, I was excited for her new book, 99 Percent Mine. And, well, it wasn't The Hating Game.
(All reviews are spoiler-free unless otherwise noted.)
Synopsis
(From Goodreads) Crush: a strong and often short-lived infatuation, particularly for someone beyond your reach…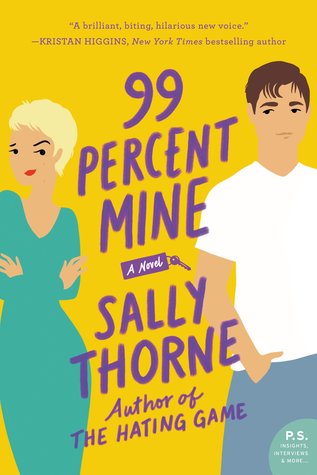 Darcy Barrett has undertaken a global survey of men. She's travelled the world, and can categorically say that no one measures up to Tom Valeska, whose only flaw is that Darcy's twin brother Jamie saw him first and claimed him forever as his best friend. Despite Darcy's best efforts, Tom's off limits and loyal to her brother, 99%. That's the problem with finding her dream man at age eight and peaking in her photography career at age twenty—ever since, she's had to learn to settle for good enough.
When Darcy and Jamie inherit a tumble-down cottage from their grandmother, they're left with strict instructions to bring it back to its former glory and sell the property. Darcy plans to be in an aisle seat halfway across the ocean as soon as the renovations start, but before she can cut and run, she finds a familiar face on her porch: house-flipper extraordinaire Tom's arrived, he's bearing power tools, and he's single for the first time in almost a decade.
Suddenly Darcy's considering sticking around to make sure her twin doesn't ruin the cottage's inherent magic with his penchant for grey and chrome. She's definitely not staying because of her new business partner's tight t-shirts, or that perfect face that's inspiring her to pick up her camera again. Soon sparks are flying—and it's not the faulty wiring. It turns out one percent of Tom's heart might not be enough for Darcy anymore. This time around, she's switching things up. She's going to make Tom Valeska 99 percent hers.
Review
First impression: the writing is… not great. I actually want to go back to The Hating Game to see if I actually don't like Sally Thorne's writing, or if it's just this book (I think it's this book). Within a few pages, I was already kind of annoyed with it. Here's the thing: it's been over two years since The Hating Game was released, and we know there was a delay with what was supposed to be Thorne's sophomore novel (The Comfort Zone). 99 Percent Mine really feels like something she wrote quickly just to get something published. And, while I get that impulse, it didn't really work out. This book feels like an early draft, and I was a more than a little disappointed.
Unfortunately, the characters and story couldn't save the mediocre writing in this case. I was not a fan of the characters. I could feel Darcy's nervous energy, and it honestly made me anxious. I just wanted her to calm down. I read books to relax, not get more stressed out. I also thought she came on too strong with the other characters, and it kind of turned me off. If I met her in real life, I'd probably physically back away from any conversation. Have you ever met those people who are just a lot to take? That's Darcy. Tom was okay, but he wasn't special enough to make me love this book. As for the story, it was too predictable. I don't read very much romance, and I still felt like I'd read this a million times before.
I kind of felt bad that I didn't enjoy this book as much as I was anticipating. I really wanted to love it. But I just didn't enjoy reading this book at all.
Rating
★★☆☆☆ – 99 Percent Mine isn't a terrible book. But it's not great. Still, I think I'd definitely give Sally Thorne another chance. I want more books like The Hating Game. And while it's unfortunate I didn't get that with 99 Percent Mine, I do think Thorne has the potential to write some really fun romance novels (that don't annoy me).
99 Percent Mine is available in bookstores now. You can pick up a copy on Amazon if you're interested.
To get the audiobook for free, use this link to sign up for a free trial of Audible and choose 99 Percent Mine as one of your two free books.
*This post contains affiliate links, which means I may get a small commission for purchases made through this post.*