It's been a while since I've read middle grade fiction. But I could not resist the combination of Victoria Schwab and one of my favorite cities in the world, Edinburgh. Also the cover. And there is a cat. This book is like my kryptonite.
(All reviews are spoiler-free unless otherwise noted.)
Synopsis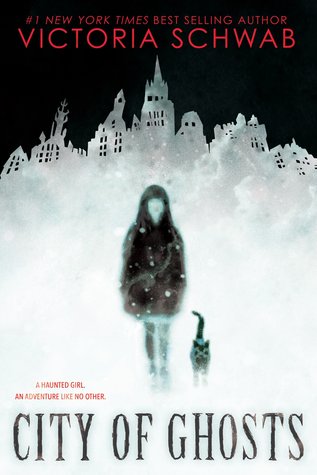 (From Goodreads) Cassidy Blake's parents are The Inspectres, a (somewhat inept) ghost-hunting team. But Cass herself can REALLY see ghosts. In fact, her best friend, Jacob, just happens to be one.
When The Inspectres head to ultra-haunted Edinburgh, Scotland, for their new TV show, Cass—and Jacob—come along. In Scotland, Cass is surrounded by ghosts, not all of them friendly. Then she meets Lara, a girl who can also see the dead. But Lara tells Cassidy that as an In-betweener, their job is to send ghosts permanently beyond the Veil. Cass isn't sure about her new mission, but she does know the sinister Red Raven haunting the city doesn't belong in her world. Cassidy's powers will draw her into an epic fight that stretches through the worlds of the living and the dead, in order to save herself.
Review
Like I said, it's been a while since I've read a middle grade book (according to Goodreads, just over two years). But I just had to give this one a shot. And it was pretty great. I was pleasantly surprised by how dark this was. It was somehow both classic V. E. Schwab, but also appropriate for children. (Nine to twelve year olds, according to Amazon.) Honestly, it kind of made me mad that I couldn't have read this when I was twelve. Because I think it would have shared my reading tastes for the better early on.
I thought the characters were all really great. Cassidy was cute, but not annoyingly so. I also really enjoyed Jacob and Lara. I was a bit worried I would find the younger characters to immature for my tastes, but Schwab did a brilliant job of making them feel mature, but also entirely age appropriate. I also really enjoyed the Red Raven, who is such a wonderfully dark and interesting villain. I think she definitely elevated this book for me, and was a big part of why I had a hard time putting this down. But I would be lying if I said my favorite character isn't Grim. I just love a cat with attitude.
Rating
★★★★☆ – I really enjoyed City of Ghosts! If you like darker middle grade, this is one to pick up. Also, if you like Victoria Schwab, you should probably read this at some point. Like I said, I'm not a huge middle grade reader at all, so I think it says a lot that I am definitely planning to continue this series. It was so fun and a nice easy read that was also brilliantly dark. I'm a fan.
City of Ghosts is available on bookstores now – you can pick up a copy on Amazon!
To get the audiobook for free, use this link to sign up for a free trial of Audible and choose City of Ghosts as one of your two free books.
*This post contains affiliate links, which means I may get a small commission for purchases made through this post.*