Have you ever put off reading a book because everyone keeps talking about it? I do it all the time. And Taylor Jenkins Reid's The Seven Husbands of Evelyn Hugo was one of those books. I eventually picked up a copy from Book Outlet, figuring I'd read it someday. But it kept calling to me, and I finally gave in. And I have to say: it definitely lived up to the hype.
(All reviews are spoiler-free unless otherwise noted.)
Synopsis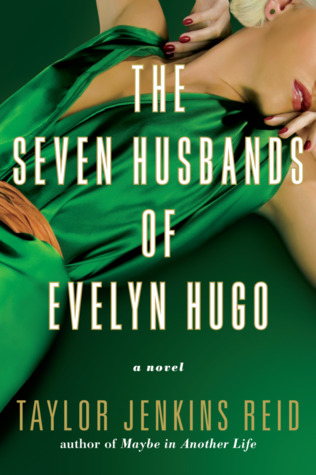 (From Goodreads) Evelyn Hugo is finally ready to tell the truth about her glamorous and scandalous life. But when she chooses unknown magazine reporter Monique Grant for the job, no one in the journalism community is more astounded than Monique herself. Why her? Why now?
Monique is not exactly on top of the world. Her husband, David, has left her, and her career has stagnated. Regardless of why Evelyn has chosen her to write her biography, Monique is determined to use this opportunity to jumpstart her career.
Summoned to Evelyn's Upper East Side apartment, Monique listens as Evelyn unfurls her story: from making her way to Los Angeles in the 1950s to her decision to leave show business in the late 80s, and, of course, the seven husbands along the way. As Evelyn's life unfolds through the decades—revealing a ruthless ambition, an unexpected friendship, and a great forbidden love—Monique begins to feel a very a real connection to the actress. But as Evelyn's story catches up with the present, it becomes clear that her life intersects with Monique's own in tragic and irreversible ways.
Review
This was a brilliant novel. It's been a while since I've stayed up late to finish a book (I'm getting old), but I read Evelyn Hugo way past my bedtime. I just couldn't put it down. Even though it's nearly 400 pages long, I finished it in a single day. It's just that good.
I'm sure anyone who's read this book will tell you that you will instantly fall in love with Evelyn Hugo. I didn't want to like her. She's a beautiful, wealthy, blonde movie star who marries seven men, mostly just to use them to get what she wants, and I was prepared to hate her. But she ended up being one of my all-time favorite characters, and I don't say that lightly. Despite appearances, she had a hard life, and her story both broke my heart and made me really happy.
I don't want to give away too much in my review, because I think, like me, you should go in blind. There are so many wonderful surprises and twists that make for a truly special reading experience. But I will say this: there is more to this book than meets the eye. If you're looking for an adult LGBT novel that is both fun and deep, The Seven Husbands of Evelyn Hugo is a must-read. Trust me.
Rating
★★★★★ – I'll admit I was pretty skeptical about this one, but The Seven Husbands of Evelyn Hugo became an instant favorite. Easily one of my favorite books this year, if not all-time. It made me laugh and cry and just wormed its way into my heart. I don't reread books that often, but I do think this is one I'll revisit in a few years.
The Seven Wives of Evelyn Hugo is available in stores now in hardcover and paperback! Go order yourself a copy on Amazon now – I promise you won't regret it.
To get the audiobook for free, use this link to sign up for a free trial of Audible and choose The Seven Wives of Evelyn Hugo as one of your two free books.
*This post contains affiliate links, which means I may get a small commission for purchases made through this post.*