I am always intrigued by award winning books. I'm interested to know what about them was special enough to make them stand out. Was it the story? Was the writing particularly amazing? I need to know. Unsurprisingly, I don't love every single award-winning book I've ever read. But that doesn't make me want to read them any less. Each year, the Pulitzer winners in particular catch my eye (I also follow the Man Booker fairly closely). So, this year, I decided to read the newest winner pretty much right away: Less by Andrew Sean Greer.
(All reviews are spoiler-free unless otherwise noted.)
Synopsis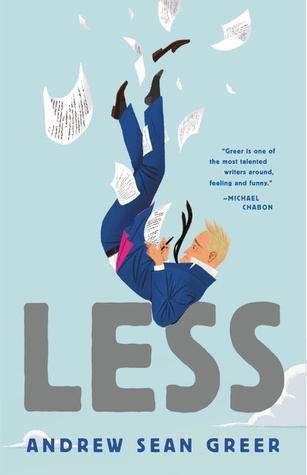 (From Goodreads) Who says you can't run away from your problems?
You are a failed novelist about to turn fifty. A wedding invitation arrives in the mail: your boyfriend of the past nine years is engaged to someone else. You can't say yes–it would be too awkward–and you can't say no–it would look like defeat. On your desk are a series of invitations to half-baked literary events around the world.
QUESTION: How do you arrange to skip town?
ANSWER: You accept them all.
What would possibly go wrong? Arthur Less will almost fall in love in Paris, almost fall to his death in Berlin, barely escape to a Moroccan ski chalet from a Saharan sandstorm, accidentally book himself as the (only) writer-in-residence at a Christian Retreat Center in Southern India, and encounter, on a desert island in the Arabian Sea, the last person on Earth he wants to face. Somewhere in there: he will turn fifty. Through it all, there is his first love. And there is his last.
Because, despite all these mishaps, missteps, misunderstandings and mistakes, LESS is, above all, a love story.
A scintillating satire of the American abroad, a rumination on time and the human heart, a bittersweet romance of chances lost, by an author The New York Times has hailed as "inspired, lyrical," "elegiac," "ingenious," as well as "too sappy by half," LESS shows a writer at the peak of his talents raising the curtain on our shared human comedy.
Review
I had a bit of an interesting experience reading this book. I first tried to read it a few months ago, and just wasn't feeling it. So, I did the smart thing and put it down. Then, earlier this month, I decided to give it another shot – as an audiobook. And it was definitely the right decision. Because the audiobook instantly hooked me. Lesson: if you're not totally into a book, maybe give it a second try in a different format. It worked out well for me.
Less is part travel diary, part satire, and part love story. And I really enjoyed it! It definitely surprised me. I didn't exactly relate to the main character – I'm a twenty-something, straight woman and he's a fifty-year-old gay man – but I loved him any way. He is tragic and funny and I just wanted to give him a hug. It was a lot of fun to follow him around the world on his ridiculous adventures.
I can definitely see why this won the Pulitzer. It was impactful and relevant and incredibly smart. Granted, it might be a bit high-brow, but I personally really enjoyed all of the literary references. It was just a wonderfully crafted novel, and it made me really happy. If you're a fan of literary fiction (or, like me, intrigued by award-winning books), I'd definitely recommend this one!
Rating
★★★★☆ – Was Less the most amazing book I've ever read? Probably not. But it was a good book that made me smile and reminded me what good literature is. Which is really all I want.
Less is available in bookstores now! Pick up your copy on Amazon – the paperback is currently less than $7!
To get the audiobook for free, use this link to sign up for a free trial of Audible and choose Less as one of your two free books. Obviously, I highly recommend it!
*This post contains affiliate links, which means I may get a small commission for purchases made through this post.*