Time for some book blogger honesty: I receive a lot of review requests. More than I even have time to respond to (I do read them all, though), let alone accept. But something about this one just really caught my eye. Patrick Canning's request was creative and his book sounded intriguing, so I took a chance. And it definitely paid off.
(All reviews are spoiler-free unless otherwise noted.)
Synopsis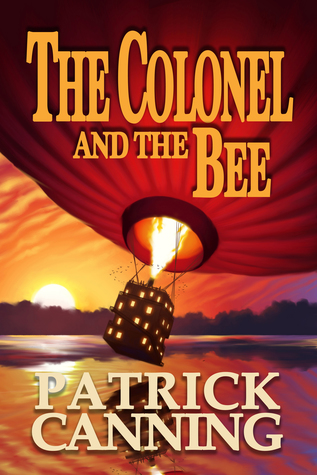 (From Goodreads) A peculiar explorer and downtrodden acrobat span the globe on a building-sized hot air balloon, in search of a precious artifact and the murderous treasure hunter who seeks it.
Beatrix, a spirited but abused acrobat in a traveling circus, seeks more than her prison-like employment offers. More than anything, she wants to know her place in the world of the halcyon 19th century, a time when the last dark corners of the map were being sketched out and travel still possessed a kind of magic.
One night in Switzerland, the mysterious Colonel James Bacchus attends Beatrix's show. This larger-than-life English gentleman, reputed to have a voracious appetite for female conquests, is most notable for traveling the world in a four-story hot air balloon called The Ox.
Beatrix flees that night to join the Colonel, and the two of them make a narrow escape—Beatrix from her abusive ringleader, the Colonel from a freshly-made cuckold. Beatrix, feeling the Colonel may have the answers to her problems, pledges to help him catch the criminal he seeks in exchange for passage on his magnificent balloon.
The criminal seeks a precious figurine, The Blue Star Sphinx, but he's not alone. The Sphinx's immense value has also drawn the attention of the world's most deadly treasure hunters. A murder in Antwerp begins a path of mystery that leads all the way to the most isolated island on Earth.
What dangers await the Colonel and the acrobat?
Review
I went into The Colonel and the Bee with very few expectations. I hadn't read anything by Patrick Canning, nor had I even heard of this book before he emailed me with a review request. But I am so glad I went with my gut and decided to read this. It is so good! I was immediately impressed by the writing. Patrick Canning is a very talented writer, and I just love how fun and whimsical his style is – it fits the story perfectly. It is easy to read, and definitely kept me entertained.
This book reminded me quite a bit of the Jackaby series by William Ritter, mainly because of the characters. The Colonel is eccentric and a bit secretive, but also very intelligent. And I just really loved Beatrix. She's smart and capable, but also learning how to manage after escaping from a bad situation. The dynamic between them is interesting, and honestly my favorite part of the book.
The story itself is also really fun. It's part adventure, part mystery, with a little bit of fantasy thrown in for good measure. I love these kinds of stories when they're done well, and this one was done well. It's a little bit over-the-top, but in the best way. I had a blast reading this!
Rating
★★★★☆ – I really enjoyed The Colonel and the Bee. While it wasn't quite a five-star read for me, I honestly don't have any complaints about it, and would definitely read more from this author. Highly recommend, especially if you enjoyed Jackaby.
The Colonel and the Bee is available on Amazon now.
This book was generously provided to me by the author. All opinions are my own.
*This post contains affiliate links, which means I may get a small commission for purchases made through this post.*