Rumpelstiltskin has been my favorite fairy tale since I was a little girl. So, naturally, I had to read Naomi Novik's take on it. I loved Uprooted, and knew Spinning Silver would be no different.
(All reviews are spoiler-free unless otherwise noted.)
Synopsis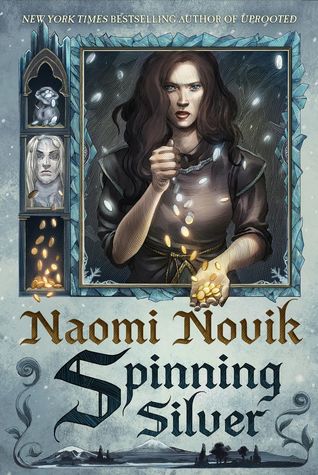 (From Goodreads) Miryem is the daughter and granddaughter of moneylenders… but her father isn't a very good one. Free to lend and reluctant to collect, he has loaned out most of his wife's dowry and left the family on the edge of poverty–until Miryem steps in. Hardening her heart against her fellow villagers' pleas, she sets out to collect what is owed–and finds herself more than up to the task. When her grandfather loans her a pouch of silver pennies, she brings it back full of gold.
But having the reputation of being able to change silver to gold can be more trouble than it's worth–especially when her fate becomes tangled with the cold creatures that haunt the wood, and whose king has learned of her reputation and wants to exploit it for reasons Miryem cannot understand.
Review
It's no secret I've had a rough couple of months, reading-wise. It's been a while since I've read more than a chapter or two in one sitting. But Spinning Silver definitely changed that. It drew me in immediately. Novik's writing is, in itself, magical. It's such a pleasure to read. She manages to conjure up detailed imagery without it feeling overwritten. It just works so well, and does justice to her story.
I thought the characters were all interesting and dimensional. Miryam and Irina's perspectives were probably my favorites, but I enjoyed all of them. Usually with this many perspectives, there is at least one I'm tempted to skip over, and that didn't happen in Spinning Silver. They all added something to the story, and kept the plot moving. I thought it made for a well-rounded story with a lot of depth.
The story itself was brilliant. Novik took a fairy tale many people are familiar with and transformed it into something else entirely. I absolutely loved the setting – it was magical and beautiful and really its own character. This was one of those books I kept thinking about every time I put it down (sadly, I could not binge read this like I wanted, because of work, and, you know, sleep). I felt like I was living in this story. And I loved how unexpected it was considering this was a retelling. Although, I'd say it was more inspired by Rumpelstiltskin than a retelling. That storyline is a big part of this book, but there's enough  going on otherwise, it's anything but expected.
Rating
★★★★★ – I loved Spinning Silver! It was beautiful and magical and put a fun twist on my favorite fairy tale. Highly recommend, especially if you enjoyed Uprooted.
Spinning Silver is in bookstores now – pick up a copy on Amazon!
To get the audiobook for free, use this link to sign up for a free trial of Audible and choose Spinning Silver as one of your two free books.
*This post contains affiliate links, which means I may get a small commission for purchases made through this post.*