A few weeks ago, I fell into what I like to think of as a YouTube black hole. At some point, I came across the trailer for BlacKkKlansman (the movie title is slightly different) and was immediately sucked in. It's such an interesting story, and completely true. When I found out it was a book, I immediately know I needed to read it.
(All reviews are spoiler-free unless otherwise noted.)
Synopsis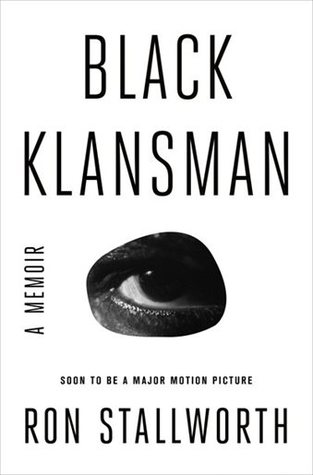 (From Goodreads) In 1978 the community of Colorado Springs, Colorado experienced a growth of Ku Klux Klan (KKK) membership. One man dared to challenge their effort and thwart attempts to take over the city, Police Detective Ron Stallworth. He launched an undercover investigation into the Klan, gained membership into the organization, briefly served as Duke's bodyguard, and was eventually asked to be the leader of the Colorado Springs chapter. The irony of this investigation was that Stallworth is… A Black man. In the process he battled internal departmental politics to successfully pull off this "sting." Black Klansman explains how he overcame these obstacles and accomplished this almost unbelievable unique achievement.
Review
Black Klansman is a fascinating story. I always love reading nonfiction that introduces me to something new, and this book definitely fit the bill. The story itself is kind of insane – a black cop infiltrating the KKK – and I just couldn't stop reading. I especially enjoyed the glimpse of racial relations in the late 1970s. It's not something I personally experienced (I wasn't born until a decade later), and it's a part of history that always interests me.
I thought this book was really well done overall. I appreciated that Stallworth didn't bog down the story with extraneous anecdotes or unnecessary side stories. He is very matter of fact, which made for a wonderfully concise book. It gets his story across, an doesn't distract from his point. My one minor complaint is that this was a bit less exciting than I would have hoped. I wouldn't call it dry, but I wouldn't have been opposed to a bit more conflict.
Rating
★★★★☆ – I really enjoyed Black Klansman. It was a nice, short read that really drew me in. It wasn't quite a five-star read for me, but I would definitely recommend it.
Black Klansman is available in bookstores now. Pick up a copy on Amazon. I highly recommend getting yourself a copy before the adaptation is released.
To get the audiobook for free, use this link to sign up for a free trial of Audible and choose Black Klansman as one of your two free books.
This book was generously provided by Flatiron Books. All opinions are my own.
*This post contains affiliate links, which means I may get a small commission for purchases made through this post.*