I read Caroline Kepnes's You years ago and loved it. Naturally, I needed to get my hands on her newest novel as soon as possible. Providence immediately caught my eye – the title is in neon – but I wasn't quite sure what to expect. I don't think I completely read the synopsis because I was so excited.
(All reviews are spoiler-free unless otherwise noted.)
Synopsis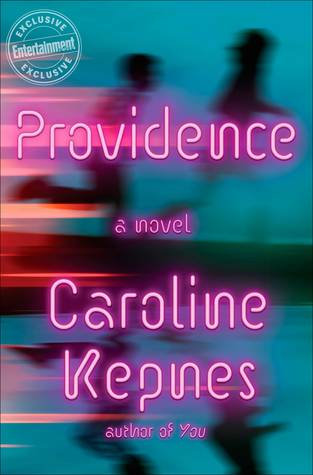 (From Goodreads) Growing up as best friends in small-town New Hampshire, Jon and Chloe are the only ones who truly understand each other, though they can never find the words to tell one another the depth of their feelings. When Jon is finally ready to confess his feelings, he's suddenly kidnapped by his substitute teacher who is obsessed with H.P. Lovecraft and has a plot to save humanity.
Mourning the disappearance of Jon and facing the reality he may never return, Chloe tries to navigate the rites of entering young adulthood and "fit in" with the popular crowd, but thoughts of Jon are never far away.
When Jon finally escapes, he discovers he now has an uncontrollable power that endangers anyone he has intense feelings for. He runs away to protect Chloe and find the answers to his new identity–but he's soon being tracked by a detective who is fascinated by a series of vigilante killings that appear connected.
Whisking us on a journey through New England and crashing these characters' lives together in the most unexpected ways, Kepnes explores the complex relationship between love and identity, unrequited passion and obsession, self-preservation and self-destruction, and how the lines are often blurred between the two.
Review
Providence is a strange book. It started out brilliantly, with a teenager being kidnapped and his best friend trying to cope with his being missing. It definitely drew me in. And then the timeline changed. I wasn't quite prepared for this to span so many years, and I think it slowed the pace down considerably. This book just felt a bit too long, and the second half took me a while to get through.
As for the story, this was really unique. I will recommend reading at least some Lovecraft first – specifically The Dunwich Horror – though it's not totally necessary. (I have read some Lovecraft, but not the book specifically mentioned in Providence.) It was very different from You, and actually reminded me quite a bit of Stephen King's writing. It felt like something he would come up with. While the story itself was interesting, I'm not sure I loved the alternating perspectives. I don't think they aded anything special. I did enjoy the supernatural element, but I don't think I fully understood it (or if I would have a better grasp of it if I'd read The Dunwich Horror).
I also didn't feel a particularly strong connection to any of the characters. I did like Jon, but I didn't identify with him enough to care as much as I wanted to. And I didn't really understand Chloe. I am still really skeptical about how she was still in love with a guy she hadn't really seen in years. I felt like she was living in the past, in a bad way, and I wish we'd seen a different side of her.
Overall, I just wanted this to be shorter and faster and more of a thriller. It took me a while to get through, and I didn't feel excited about continuing with it. I didn't dislike this book, but it felt like a slog to get through. I appreciated the creativity of this story, but it just fell a bit flat.
Rating
★★★☆☆ – Providence definitely interesting, but it didn't blow me away. I think Kepnes set the bar high with You, and this didn't quite reach it. It did make me want to read some Lovecraft, though. Not a bad book, but I also wouldn't say I loved it. Will definitely still read more of Caroline Kepnes's novels, though.
Providence will be available in bookstores June 19th (order on Amazon here).
To get the audiobook for free, use this link to sign up for a free trial of Audible and choose Providence as one of your two free books.
This book was provided to me by NetGalley and the publisher. All opinions are my own.
*This post contains affiliate links, which means I may get a small commission for purchases made through this post.*