Kevin Kwan's Crazy Rich Asians has been on my radar for a while, mostly because it sounded like a fun read. This past week, I really needed a fun read, and the recently released movie trailer basically made my decision for me.
(All reviews are spoiler-free unless otherwise noted.)
Synopsis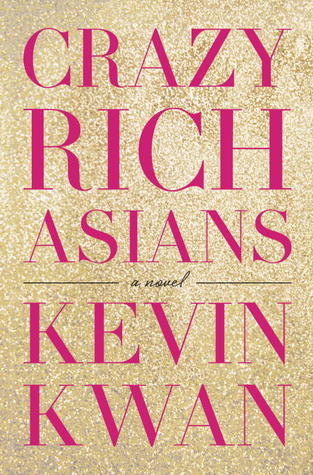 (From Goodreads) Crazy Rich Asians is the outrageously funny debut novel about three super-rich, pedigreed Chinese families and the gossip, backbiting, and scheming that occurs when the heir to one of the most massive fortunes in Asia brings home his ABC (American-born Chinese) girlfriend to the wedding of the season.
When Rachel Chu agrees to spend the summer in Singapore with her boyfriend, Nicholas Young, she envisions a humble family home, long drives to explore the island, and quality time with the man she might one day marry. What she doesn't know is that Nick's family home happens to look like a palace, that she'll ride in more private planes than cars, and that with one of Asia's most eligible bachelors on her arm, Rachel might as well have a target on her back. Initiated into a world of dynastic splendor beyond imagination, Rachel meets Astrid, the It Girl of Singapore society; Eddie, whose family practically lives in the pages of the Hong Kong socialite magazines; and Eleanor, Nick's formidable mother, a woman who has very strong feelings about who her son should–and should not–marry. Uproarious, addictive, and filled with jaw-dropping opulence, Crazy Rich Asians is an insider's look at the Asian JetSet; a perfect depiction of the clash between old money and new money; between Overseas Chinese and Mainland Chinese; and a fabulous novel about what it means to be young, in love, and gloriously, crazilyrich.
Review
I want to start this review by saying that I'm not asian, nor am I particularly familiar with Chinese culture, so I'm not able to comment on how this book handles that, or if it's problematic. (If you have anything to add on that topic, please feel free to input your thoughts in the comments!)
I was expecting a fun, relatively light read, and that is exactly what I got from Crazy Rich Asians. The love story wasn't particularly original, but I did enjoy it. I liked the characters, and thought their relationships were pretty interesting. Obviously, I am not crazy rich (if only), so the world in this book isn't anything I've even remotely come in contact with, so this story felt like a version of Real Housewives I'd actually watch. I'm not even ashamed to admit how much I loved all the insane rich-people shopping (although the idea of spending a million dollars in ten minutes stresses me out).
Honestly, I don't have much else to say about this. It was outlandish and engaging, and I read most of it in one sitting.
Rating
★★★☆☆ – Overall, Crazy Rich Asians was a nice, quick read. I don't feel it was particularly deep or ground-breaking, but it was definitely entertaining. If you wind a good, semi-mindless read to relax at the end of a long week, I would definitely recommend this!
Crazy Rich Asians is available in hardcover and paperback now (order on Amazon here).
To get the audiobook for free, use this link to sign up for a free trial of Audible and choose Crazy Rich Asians as one of your two free books.
*This post contains affiliate links, which means I may get a small commission for purchases made through this post.*