I feel like Dhonielle Clayton's debut novel, The Belles, has been popping up on my book radar for months. I see it everywhere, and the cover is definitely eye-catching. So, even though it isn't the type of book I typically go for, I decided to give it a shot. I mean, look at that cover!
(All reviews are spoiler-free unless otherwise noted.)
Synopsis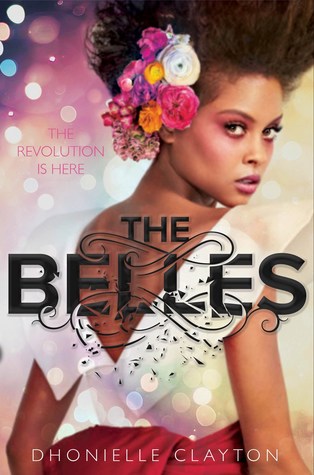 (From Goodreads) Camellia Beauregard is a Belle. In the opulent world of Orléans, Belles are revered, for they control Beauty, and Beauty is a commodity coveted above all else. In Orléans, the people are born gray, they are born damned, and only with the help of a Belle and her talents can they transform and be made beautiful.
But it's not enough for Camellia to be just a Belle. She wants to be the favorite—the Belle chosen by the Queen of Orléans to live in the royal palace, to tend to the royal family and their court, to be recognized as the most talented Belle in the land. But once Camellia and her Belle sisters arrive at court, it becomes clear that being the favorite is not everything she always dreamed it would be. Behind the gilded palace walls live dark secrets, and Camellia soon learns that the very essence of her existence is a lie—that her powers are far greater, and could be more dangerous, than she ever imagined. And when the queen asks Camellia to risk her own life and help the ailing princess by using Belle powers in unintended ways, Camellia now faces an impossible decision.
With the future of Orléans and its people at stake, Camellia must decide—save herself and her sisters and the way of the Belles—or resuscitate the princess, risk her own life, and change the ways of her world forever.
Review
I'm not exactly sure what I was expecting from The Belles, but I still felt a bit disappointed by it. I really wanted to enjoy this book, but I had trouble with it from the first page. And I don't blame it – I think this one's on me. This book was just too girly for me (for lack of a better word). Perhaps it's all the science fiction I've been reading lately, but this book felt overly embellished and the imagery was almost too pretty. It was difficult for me to become invested in the story, because I couldn't get past all the flowers and hair colors and dresses. I completely understand that's what this book is (it's literally about girls who make people beautiful with magic), but I didn't expect that aspect of the book to be so overwhelming and detailed. It was just a bit much for me, personally, and I think it prevented me from fully appreciating the story behind it.
However, there was still a lot I liked about it. It was so great to see a diverse (own-voices) young adult fantasy, that wasn't diverse for the sake of being labeled diverse. It really felt like the diversity was simply a part of that world, and that's what I look for, especially in fantasy books. I thought the premise was really interesting and fun and – take this with a grain of salt because I don't read all that much YA fantasy anymore – unique. It felt new and fresh, juxtaposing a corrupt world against beauty itself. Definitely something I haven't seen before. I probably won't be continuing with this series – I'm just not invested enough in these characters – but I will be keeping an eye out for anything else Dhonielle Clayton writes, because I'm curious to see what she does with a different story.
Rating
★★★☆☆ – Unfortunately, I didn't love this one, but I think a lot of people will. If YA fantasy is your thing, I think you might really enjoy this. It's a great addition to the genre, and even though it wasn't my cup of tea, it makes me happy to see books like The Belles are getting the attention they deserve.
Have you read The Belles? Let me know what you thought of it in the comments (no spoilers please!).
The Belles will be in bookstores starting February 6, 2018. You can preorder your copy on Amazon now.
To get the audiobook for free, use this link to sign up for a free trial of Audible and choose The Belles as one of your two free books.
This book was provided to me by NetGalley and the publisher. All opinions are my own.
*This post contains affiliate links, which means I may get a small commission for purchases made through this post.*