Sometimes, all I want is a nice, easy read with a little fluff and a nice helping of romance. A romantic comedy in book form. Because who doesn't like the occasional romantic comedy? But I wouldn't say I'm a romance reader. Sure, I love books with romantic elements – one of my favorite romances takes place throughout a science fiction trilogy – but I rarely read books that fit into the romance genre. So when I do, I am picky. I can count the ones I've loved on one hand. But when Roxane Gay gave Jasmine Guillory's debut novel, The Wedding Date, five stars, that's really all I needed to know.
(All reviews are spoiler-free unless otherwise noted.)
Synopsis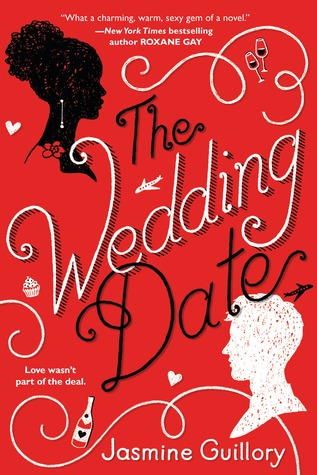 (From Goodreads) A groomsman and his last-minute guest are about to discover if a fake date can go the distance in a fun and flirty debut novel.
Agreeing to go to a wedding with a guy she gets stuck with in an elevator is something Alexa Monroe wouldn't normally do. But there's something about Drew Nichols that's too hard to resist.
On the eve of his ex's wedding festivities, Drew is minus a plus one. Until a power outage strands him with the perfect candidate for a fake girlfriend…
After Alexa and Drew have more fun than they ever thought possible, Drew has to fly back to Los Angeles and his job as a pediatric surgeon, and Alexa heads home to Berkeley, where she's the mayor's chief of staff. Too bad they can't stop thinking about the other…
They're just two high-powered professionals on a collision course toward the long distance dating disaster of the century–or closing the gap between what they think they need and what they truly want…
Review
I read The Wedding Date in a single day (it would have been a one-sitting read, but I opted to take a break so I could drive home from work before finishing it). This book is ADDICTING. Even in the moments I was forced to put it down, I kept thinking about it (I may or may not have been able to resist reading a few pages at red lights on my way home). It's been a while since I was that invested in a new book.
What I loved: the characters. They were both so interesting! I really liked that we got to see so much of their individual lives and careers. It felt like they were distinct people, and I've read a lot of romances where the entire story revolves around the romance, there's nothing else. It was refreshing to see that they were each so passionate about and affected by their careers. I also liked how different they were, and how those differences were addressed. Granted, I don't read a lot of romance to begin with, but I don't remember the last time I read an interracial romance, and that's kind of a shame. This was a very realistic love story between two mature adults, and that is just what I wanted. There are several times that Alexa brings up being the only black person in the room while hanging out with Drew's friends, and I think that's an important subject to bring up. I liked how open and sensitive they were about it. It's something I haven't seen a lot of, and I loved how it was incorporated into the story, but that race wasn't a plot device, or something thrown into the story to earn a diverse label. It was realistic and overt, without being forceful. And it made this book so much more impactful.
Even though I loved this novel – the writing, characters, and story were all great – there were a few things I didn't like. First, even though the love interests are mature adults, it did feel a little bit insta-lovey. I don't want to spoil anything, but there is a grand gesture at some point, and the first thought that popped into my head was "do you really know her well enough to do that?" This relationship progresses quickly, and while it felt natural, it made me nervous (probably just me). I also thought the beginning was a little bit slow – it took me a good thirty pages or so to start really enjoying it. Which might have helped with the insta-love thing a bit, but there are a few some things I could have done without.
Rating
★★★★☆ – Overall, I thoroughly enjoyed The Wedding Date, and am excited to see what Jasmine Guillory writes next. I would highly recommend this for fans of The Hating Game by Sally Thorne.
The Wedding Date will be in bookstores starting January 30, 2018. You can preorder your copy on Amazon now.
To get the audiobook for free, use this link to sign up for a free trial of Audible and choose The Wedding Date as one of your two free books.
This book was provided to me by NetGalley and the publisher. All opinions are my own.
*This post contains affiliate links, which means I may get a small commission for purchases made through this post.*