Every so often, being a book blogger pays off. In this case, I found out about Adam Kay's memoir, This is Going to Hurt from a blogger friend and a reader in the UK. I don't believe this book was published in the US, and I don't think I would have found out about it otherwise (so, thank you Emma and Andrew!).
(All reviews are spoiler-free unless otherwise noted.)
Synopsis
(From Goodreads) Adam Kay was a junior doctor from 2004 until 2010, before a devastating experience on a ward caused him to reconsider his future. He kept a diary throughout his training, and This Is Going to Hurt intersperses tales from the front line of the NHS with reflections on the current crisis. The result is a first-hand account of life as a junior doctor in all its joy, pain, sacrifice and maddening bureaucracy, and a love letter to those who might at any moment be holding our lives in their hands.
Review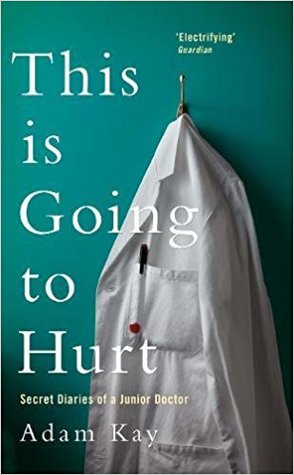 Let me preface this review by saying that I am an anglophile who works at a medical school, so my understanding of both the hospital environment (which is still fairly limited) and British terms probably helped me appreciate this book a lot more than I otherwise would have. I kind of get why this hasn't been published in the US (yet), because I think it might be a bit confusing for a lot of people. Still, I really enjoyed reading it, and it is taking all of my willpower not to recommend it to every single doctor I come across.
It's rare that I'm pulled into a book from the first page, but even rarer that I know I'm going to like a book after reading only the acknowledgements. This was that book. I knew I was going to love it after just a few words – which was completely unexpected – and I was right. I can't count the times I laughed out loud. This is Going to Hurt is the perfect mixture of serious and humorous, and it made for a really enjoyable read. I couldn't put it down.
I really enjoyed Kay's sarcastic brand of humor, especially since he's relating realtites that can be hard to swallow – people die, relationships are hard, etc. – and talking about cases that, I'll admit, made me squirm. (Do not read this if you have a weak stomach. Or while eating. Or if you ever want to have children.) Plus, the patients he's encountered are… unique. (If they hadn't survived, they might be eligible for the Darwin Awards.) Each entry was amusing, and I liked the diary format of this book.
I also actually learned quite a bit from this book (like exactly how the Pope is declared dead, which is different from how every other person is declared dead). I liked all the little facts here and there, and that Kay didn't dumb down the terminology for us non-doctors. If you read this – and you should – don't skip the footnotes, trust me.
Rating
★★★★★ – I loved This is Going to Hurt. It was funny and realistic and just a great memoir. I'm so happy I chose it as my first read of 2018 – starting the year off right! – and, if I could, I'd buy copies to hand out to everyone I know (or randomly leave around the medical center where I work, whatever). I
If you are not in the UK, this book is available on Book depository (which is where I got my copy).